Three Indians honoured in Oman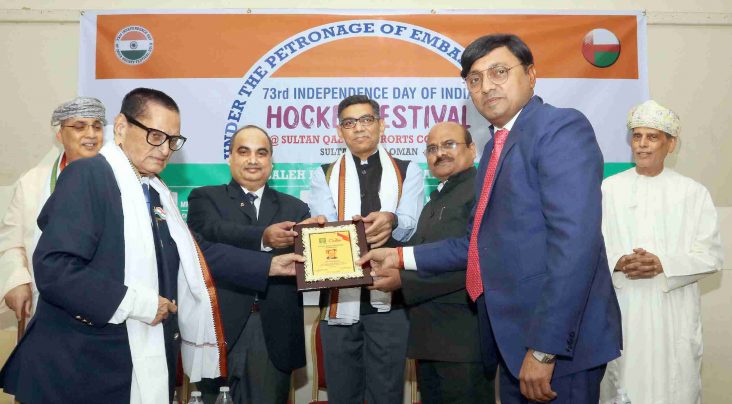 Three personalities from India were Invited as Special Guest of honour by the Embassy of India and Oman Hockey Association on the occasion of the 73rd Independence Day of India Celebration Hockey Festival at the Sultan Qaboos Sports Complex, Muscat. Indian Social Club hosted a Felicitation Ceremony on 17th August 2019 to honour the Indian Delegation for their continued services to the society. Mr. Ramprakash Verma – Chairman & Group Editor, Arogya Darpan, Mr. Devendra Pratap Singh – Educationist and Dr. Rakesh Verma – Chief Cardiac Surgeon received accolades at the hands of HE Mr. Saleh Khalifa Al Khusaibi, Advisor, Ministry of Sports Affairs, Sultanate of Oman, HE Mr. Munu Mahawar, Ambassador of India to the Sultanate of Oman and Mr. BS Mehta, Managing Director, Muscat Pharmacy.
The Felicitation Ceremony was held under the guidance of International Hockey Figure – Mr. SAS Naqvi, Former Technical Advisor, Oman Olympic Committee, Sultanate of Oman, Mr. Osama Rawat, General Manager, Oriental Pharmacy expressed gratitude to the dignitaries, the press and media. Mr. Bellu Kuttappa, Director of Team Coorg Muscat welcomed Guests from India. Mr. Suhail Khan, Secretary, Indian Social Club hosted the function. Prominent Omani and Indian citizens, Govt. officials were also present on this occasion. Team Coorg Muscat and Friends of Naqvi Group have been Organising the Independence Day of India hockey celebrations for the past 14 years under the esteemed auspices of Indian Embassy in Oman and in coordination with Oman Hockey Association.
HE Mr. Munu Mahawar, India's Ambassador to Oman hosted a Tea Party in Indian Embassy in honour of the Indian Delegation. He congratulated the guests by praising their work done in various fields. In his address, he said that "I shall try my best that No Indian will face any kind of trouble in my tenure as India's Ambassador to Oman. India-Oman relations have gained new heights under the leadership of Prime Minister Shri Narendra Modi".
HE Mr. Munu Mahawar joined the Indian Foreign Service in 1996. He has served in diplomatic Missions in Moscow (1998-2001 & 2008-2011) and Geneva (2005-2008). At Headquarters, he has served as Desk Officer for Nepal (2001-2005) and Director in Prime Minister's Office (2011-2014). He also headed the Establishment Division (2014-2015) and UN Political Division (April 2015-September 2015) in Ministry of External Affairs. He was head of Americas Division from October 2015 to August 2018.
HE Mr. Munu Mahawar is working tirelessly towards further strengthening of the India-Oman relationship.