PHD Chamber in association with AMTZ (Andhra MedTech Zone) organized a Seminar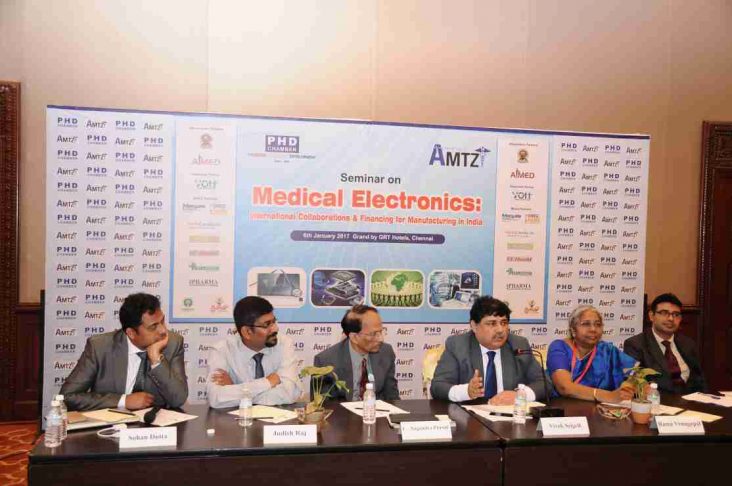 PHD Chamber in association with AMTZ (Andhra MedTech Zone) and with support of Andhra Chamber of Commerce organized a Seminar on 'Medical Electronics International collaborations & Financing for Manufacturing' in India on Friday, 6th January 2017, 10:30am at Grand by GRT Hotels, Chennai.
AMTZ (Andhra MedTech Zone) aims to make India a self-sufficient and in fact an exporter of good quality and cost-effective medical technology.
The objective of the Seminar was to familiarize the Industry with the opportunities that exist in filling the gap which is likely to only widen as the healthcare services reach out to semi-urban and rural areas.  For medical electronics to create a meaningful impact on the healthcare system, collaboration between key stakeholders including government, industry, healthcare providers, and health insurance companies is important. This is necessary to come up with the right success strategy and improve overall healthcare access and delivery in the country.
Mr. Judish Raj, Vice-President (Planning), AMTZ (Andhra MedTech Zone) in his address spoke about AMTZ's value proposition for investors and about multiple fiscal incentives provided by AMTZ to the companies participating in the project such as
-100% reimbursement of Stamp Duty,
-Transfer Duty and Registration Fee paid on sale / lease deeds on the first transaction and 50% thereof on the second transaction,
-50% to micro, 40% to small & 25% to medium & 10% to large scale industry limited to Rs 50 lakh for a period of 5 years from the date of commencement of commercial operations
– Exemption of Electricity Duty for new electronic hardware units, after coming into commercial operations entitled for 100% exemption on Electricity duty for a period of 5 years.
He also spoke about the benefits of being part of the AMTZ project at Vizag, where they are offering Plug-n-Play Infrastructure, Lower cost testing services, Lower Capex for manufacturers, Regulators and Export Facilitation, Promotional activities through EXPO/ Convention Centre, Finance and technology transfer services, Preferential Market Access and many other allied facilities commonly required by the medical devices manufacturing industry.
Mr. C. Nagendra Prasad, Vice President, Andhra Chamber of Commerce appreciated the effort made by PHD Chamber and AMTZ
Ms. Rama Venugopal, Executive Director, M/s.Value Added Corporate Services Pvt. Ltd. & Joint Coordinator, Association of Indian Medical Device Industry (AIMED) According to Mrs. Rama Venugopal, "This is the need of the hour.  This segment has been a long neglected area where medical devices manufacturers have been suffering from lack of understanding of their unique requirements and the support from government.
Mr Vivek Seigell, Director, PHD Chamber said this initiative is a hallmark in making Ease of Doing Business a realty as it will be a first park of its kind which will offer a manufacturing ecosystem with all facilities not only related to product development and reducing costs through peruse facilities but also the regulatory bodies under one roof for quick and hassle free approvals and certifications. He stressed that this would support the "Make in India" movement that would immensely benefit the end consumer ie patient.